12-08-17 | Path To Eternity out now!
This was a pretty rough ride in the end, but we are happy to announce that our album 'Path To Eternity' is available now! Order the DigiPak in our shop or download the album digitally. We are also on Spotify! Thanks to everyone who made this possible - we hope you enjoy 'Path To Eternity'!
To compliment the release, here is another new song: 'To The Proud A Grave':
---
12-06-17 | Delays, leaks & a 'Siren Song'
So after sending out some review copies, our upcoming album has leaked big time all over the internet. We are flattered due to the fact 'Path To Eternity' is obviously highly anticipated, but also encourage you to wait for the official release. After some unforeseen delays in production, this has been pushed to early December. In fact we are just waiting for the package to arrive which will happen any day now. In the mean time you can follow the 'Siren Song' in this official (!) lyric video - enjoy: 
---
11-13-17 | Join us on our 'Path To Eternity'
In November 2017 we will finally release our full length album entitled 'Path To Eternity'. Make sure to check out the first song 'Rotten Wings'! We hope you like it...
Full track list:
Guardians Of Light | Rotten Wings | We Deal In Lead | Drums In The Deep | To The Proud A Grave | Blood Will Decide | Banished To Nightly Realms | Wastelands Of War | Siren Song | Jester's Tears | Hero Of All Times | King Of The Dragon Age | Sapphire Skies | Path To Eternity
---
09-25-17 | Album recordings & merchandise
We're almost done recording our upcoming album 'Path To Eternity'. It will feature 14 brand new songs to be unleashed soon. Stay tuned for more updates coming next month! Additionally we finally have some merchandise for sale in our shop. Check out our shirts and girlies featuring the cover art of our EP 'Into the Fire'. This is a strictly limited run so make sure to get your size while they last. For those who want the real deal: on November 4th we will perform at Drunken Nights V in our hometown Erding. This will be another 90 min headline show, so better be ready for some serious headbanging. The crowd in Munich really blew as away at our last gig at Eddy's Rockclub, so it will be hard to beat them. But we know you can do it of course... 🙂 See you soon!
---
06-27-17 | Upcoming album & live show!
We are currently working on our full length album which will be released later this year. Stay tuned for future updates when we will share more.
Additionally we will play our very first gig in Munich on September 16th at 'Eddy's Rock Club'. Feel free to spread the word...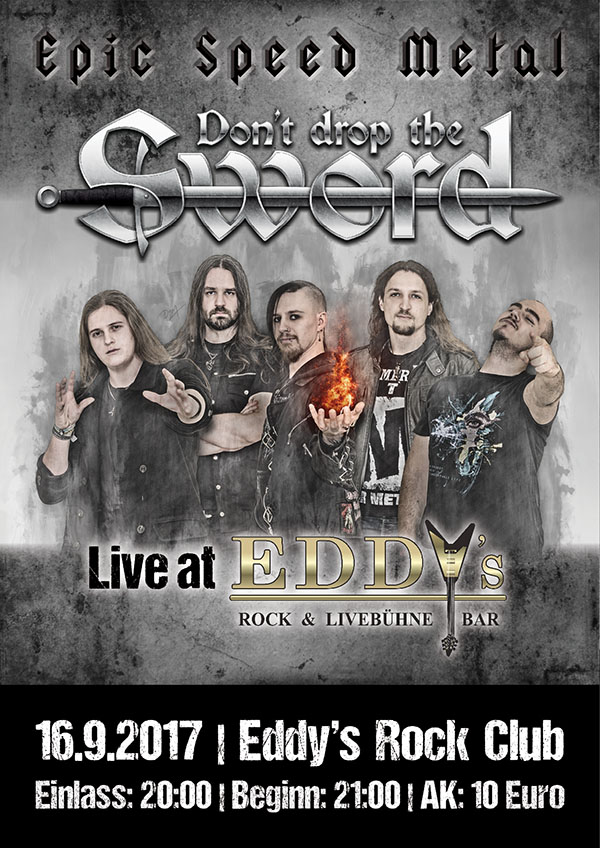 03-04-17 | 'Thank you' & upcoming live shows
Wow - thank you so much for your awesome support! So many CDs already sold, so many contributors via bandcamp and such a great overall feedback... We also received really great reviews on various sites from all over the world - thank you very much indeed! Now we're focusing on our upcoming shows in Erding and Landshut - check our facebook page for more details!
Thanks again - we are looking forward to a great year for 'Don't Drop The Sword' both live and in the studio... Stay tuned!
01-27-17 | 'Into The Fire' EP out now!
Our EP 'Into The Fire' is finally released! As you can see we added 2 new menu options. You can either use the 'Shop' to buy the physical version of the EP for 5 Euro (including shipping to Germany) or you can download the EP for FREE via Bandcamp. Additionally you can choose to support us by naming your price. Of course we highly appreciate anyone who wants to pay us. Whatever option you choose, we hope you enjoy 'Into The Fire' as much as we do.
Also check out our 2 new videos:
---
01-20-17 | The Rise Of Neith
We're exactly one week away from the release of our EP 'Into The Fire'! Of course we're posting another song today, that you can listen to in advance - 'The Rise Of Neith' invites you to a journey into Egyptian mythology, taking no prisoners on the way...
---
01-17-17 | Upcoming show
We are happy to announce our show at the legendary 'Altenerdinger Rocknacht'. The event will take place on March 25th at 'Gasthof Adelberger' in Altenerding. Of course we will bring our EP in case you want to get your hands on a signed copy! Additionally expect some pretty cool specials for this performance. Stay tuned for more...  
---
01-13-17 | Into The Fire
It might be Friday the 13th, but we're definitely not out of luck yet. Thank you so much for all the positive feedback so far. We hope you are looking forward to the release of our EP as much as we do. Anyway, the time has come to finally reveal the title track - here is 'Into The Fire':
---
01-06-17 | Death Or Glory
We proudly present the first song from our upcoming EP 'Into The Fire', coming out on January 27th. 'Death Or Glory' is also the very first song we have ever written. It's about gladiators, knights & warriors standing their ground in times long past. We hope you like it!
---
12-16-16 | EP incoming!
We finally entered the studio to record our very first EP. We will keep you updated on our homepage & our social media channels. Make sure to follow us on Instagram for exclusive content. Tracklist, artwork & release date will be announced very soon. Stay tuned!
---
11-30-16 | Rotten Wings
Before we announce the next big step for 'Don't Drop The Sword', we'd like to share another live video with you. This was filmed during our last gig at Sonic Erding and features one of our newest songs, 'Rotten Wings'. We hope you like it. Thanks to Niko Bauer for providing the footage!
---
11-20-16 | Into The Fire
Thank you so much for joining us at our show at Sonic Erding! You set a new audience record for 'Drunken Nights' and therefore earned our deepest gratitude! Below there's a link to some great shots from this legendary evening. We truly stepped into the fire without getting burned so far and thus a major announcement is coming very soon. Stay tuned!
---
11-07-16 | Upcoming Show!
Have you forgotten the name of the only true king? Who are the 'Guardians Of Light'? And what about those 'Nightly Realms'? Come and see for yourself when we will perform our brand new songs on November 12th at Sonic Erding. Keep the torch ablaze and fight with us side by side once more. Light up that spark in your heart and burn it into the fire of Heavy Metal. See you on the battlefield!

---
08-05-16 | King Of The Dragon Age
To start the weekend right, we invite you to come with us to the burning land of a mighty emperor, the king of the dragon age! We hope you like this live version, also recorded by our friend Yanzheng at our first gig.
---
07-27-16 | Into The Fire
Thankfully our friend Yanzheng did some filming during our 'First Stab'-gig at AWO Sommerfest. Therefore we are quite happy to post our first live video. 'Into The Fire' is a mid-tempo song about the final chapter from 'The Lord Of The Rings'. It also features the first lyrics written by Anti after joining DDTS. 
---
07-03-16 | First live performance
On July 15th, Don't Drop The Sword will conquer the stage for the very first time. Since this will be a private event, we will invite people personally this time. The performance will take place at the 10th anniversary of the 'AWO Sommerfest' in Erding, Germany. We look forward to meeting you there. Up the horns & don't drop the precious steel! 
---
06-20-16 | The journey begins
Welcome to the official homepage of 'Don't Drop The Sword'. This will be your number 1 source for everything related to the band, so make sure to check in regularly. You can also follow us on Facebook, Soundcloud and other social platforms. Thank you for your support!